Welcome to my world!

My name is Jolene and I live in Southern California. Years ago I won a Halloween costume contest when I wore a dancer's unitard, cat ears, and a gold glitter belt. A few people approached me and said it was the best re-creation of the 1966 era Catwoman that they had ever seen. Wearing the costume on Halloween became a tradition for me. People who saw pictures of the outfit said that I should make appearances at Batman cast reunion conventions and other comic book conventions. At those conventions, people asked "Where did you get your costume?" "Can I get one just like it?" and my costumewear and dancewear business was off and running!
All of the costumes and dancewear you see on this website are handcrafted with loving care. I finish each piece as if I were making it for a close friend. USPS priority mail, the best shipping method in my experience, is always used. My feedback on Ebay is 100%, with glowing, mini testimonials from around the world. Most, if not all of my designs are not available in any store whether it is online or bricks and mortar. See what the hype is all about!

Featured item for Winter/Spring 2008: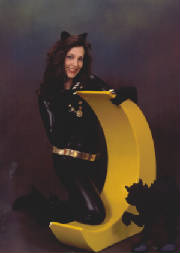 1966 Inspired "Sexy Cat" Costume

Please get in touch to offer comments and join the mailing list for sales and specials!

You can e-mail me at:

Designs by Jolie, Riverside, California USA